Looking for my latest blog - it's here

I'm a (volunteer) councillor for the South Ward on Melksham Town Council
I am not affiliated to any party or grouping, but work in partnership.

I was elected in May 2021, for a four year term. I am sticking, after the election, to what I said before.
Environment ... Equality ... Openness
You can still find that at my campaign website at http://graham4melksham.uk.
Role of Town and Parish Councillors
Powers and functions
of a town council from Commons Library, parliament.uk

Most parish and town councils have very small budgets and don't have the means to run public services. They typically focus on activities such as managing parks, car parks, footpaths, community centres, cemeteries, and other local amenities.

The largest may run more commercial operations such as leisure centres or museums. The only power available solely to parish councils is to obtain land for use as allotments.

More broadly, parish councils exercise a general consultative role on behalf of local people: for instance, they have statutory consultation rights on planning matters. At national level, they are represented by the National Association of Local Councils, and its county-level associations.

Translated - Town councillors have very few powers to do anything. But they are very much listed to by the next tier up (in the case of Wiltshire, that's Wiltshire's Unitary Council). And they are typically a font of local knowledge - able to help with many questions, as many will be repeated, and if they don't know, they'll be able to refer you on to someone who does.

Melksham TOWN comprises the main urban area of Melksham and is almost completely surrounded by Melksham WITHOUT Parish which includes communities such as Berryfield, Bowerhill and Beanacre.


---
Melksham (South) ward
The ward includes many residential areas of the town, and much of the Town Centre. It includes the Town Hall, Market Place and Melksham House, where the new Campus is under construction.

Melksham is a growing town, but there is only limited space for additional building within the ward, though residenial building is underway close by in the East Ward and in the Bowerhill Ward of Melksham Without, with further suggestions for more housing in those wards and towards Berryfield.

Melksham also has East, Forest and North wards. Outside the town, Melksham Without Parish Council has similar roles for the surrounding area, including Bowerhill, Shaw, Whitley, Berryfield, Beanacre and Sandridge.

The green pushpin in the map shows you where I live - in the very heart of the ward.



---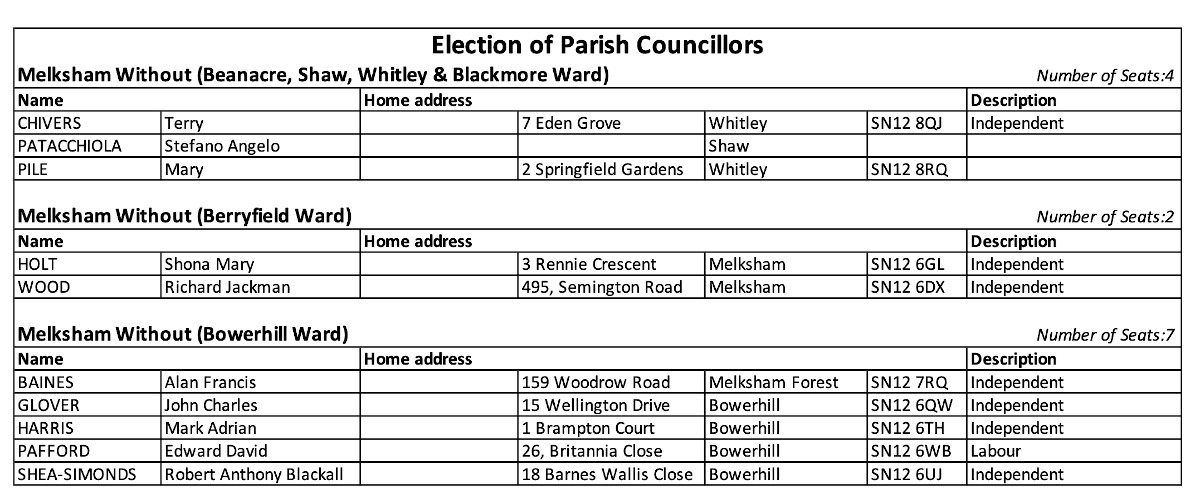 None of the Melksham Without wards is being contested.
Nomination match the number of seats exactly for Berryfield
For the other two wards, co-options will be available to fill the places